The Queen is getting older, but when did she turn into fucking

Catherine Denueve

? This must have happened this week! Here she is at the Gaultier show in Paris. Xolondon is seated down the aisle from her, but you can't see me. And isn't that the skeevy flamenco dancer guy next to her? Je suis desole, I forget his name. The one who goes shirtless, but never looks as thin as he should? You just know he kissed her ass.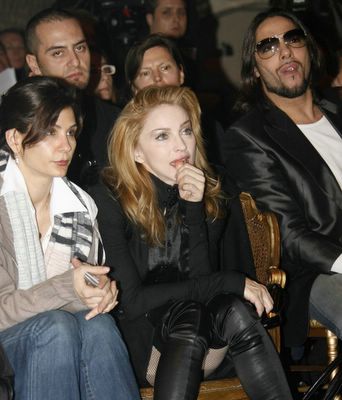 Madonner, meanwhile is kind of too thin. I totally applaud her willingness to age without major surgery. I hope she sticks to that, especially after the freaky-Abercrombie-dude-post yesterday, but really, she'd look less old if she ate a little bit more. You get the sense her diet is from a very deep psychosis. She is hard in every way. These pics are the good ones of this set. Click to enlarge.






Joaquin Cortes

! That is the skeevy dancer's name!