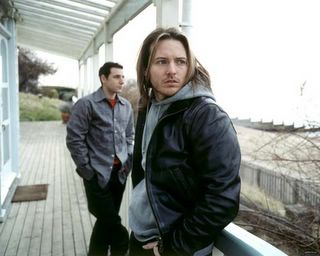 Turin Brakes
have never, in my opinion, been an
album
band. They've had two previous releases and I kept neither one. The last CD was preceded by a truly perfect song
"Painkiller (Summer Rain)"
(watch the
video
) and then the album was just not up to it. The opposite is true of their new release
Jackinabox
, out today. The lead single
"Fishing For A Dream"
is nice LA fantasy, but it didn't leap out at me.
Then I started hearing tracks leaked via various websites.
"Among the Fireflies"
is fucking brilliant. It reminds me of Jimi Hendrix, though I don't think it's supposed to. This song - the whole record really - has a bit of a Fleetwood Mac vibe to it. Great bass, guitar and harmonies. It's one of several fun uptempos, another being the next single
"Over And Over"
with it's stompy sing-song chorus.
"Red Moon"
is an amazing we're-finally-free song that has handclaps, harmonies and tambourines - it's a crunchy stomper of a song, supposedly based on
"Hey Ya"
by Outkast.
My favorite track is the wispiest: a gorgeous guitar/violin ballad called
"Above The Clouds."
Another downtempo, the twangy
"Buildings Wrap Around Me,"
has a beautifully written chorus:
"With the world before me to break my fall / When this wind behind me won't / The streetlights embrace me, see I close my eyes / The building wraps around me"
Turin Brakes
is composed of two Brits:
Olly Knights
and
Gale Paridjanian
(note that Olly, the primary singer, has lost a lot of weight and grown his hair to a sultry length). Making a third album this good cannot be easy, especially after the relative failure of their last record. You can tell TB allowed
Jackinabox
to bake for awhile. The details are all here, such as the strange noise on the chorus of
"Above The Clouds"
and the aforementioned ghetto fabulous/rubbery chorus of
"Fireflies."
It's great and you should consider trying them out.
Key tracks: Among The Butterflies, Above The Clouds, Buildings Wrap Around Me
Song samples at this
website
(click on Audio)
Great British

fansite

with lots of freebies