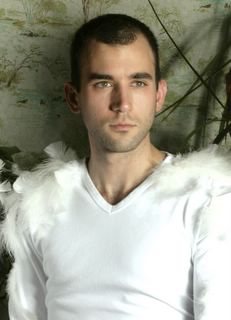 I've been loving this euphoric new song by
Sufjan Stevens
(pronounced
Sufyan
) song called
"Chicago"
from his new CD
Illinoise
. Perhaps he should have Christopher Guest do Guffman style video?
Previously I had confused Sufjan with
Devendra Banheart
, who is a bit of freak, IMO. Sufjan, who seems to be the Walt Whitman of pop (check out the
song titles
on the new record), is like a cleaned-up hippie pied piper of all things Americana. Eg: One track is called
"Out of Egypt, into the Great Laugh of Mankind, and I shake the dirt from my sandals as I run."
Hear "Chicago" by going to
this BBC 6 link
and moving ahead to 19:10 (you may need to sit through a Coldplay track!)
OOPS -It is now dead.

Download
"All Good Naysayers"
from his last CD Michigan. More on Sufjan
here
.