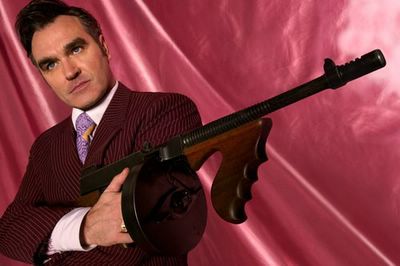 There's a bit of a hullabaloo on the Morrissey sites this week because of a comment Tori Amos made at her show in Manchester a few nights ago. A fan asked her to play a Smiths song and this is what she said, apparently with some humor (or should I say humour?):
"...and it's not The Smiths. Piss off... It's not Morrissey because he pissed me off. I'll tell you why. (audience:
He's a fuckhead!)
That's right. Let me tell you why... fuck off! Great band... I can't believe I'm having this conversation with you people. I'm coming out of a tv show, right, it's forever ago, and he's walking past me, this little short guy, and I'm walking past and I have heels on, so I can say that. And I look back and I just said, 'Hey man, you've written great songs.' He said, 'What the fuck do you know?
'What the fuck do
I
know, motherfucker, who are you trying to sell records to in america you small-dick motherfucker? We never spoke again. So I'm not doing his song. But I like the band and I listen to the songs, but this is somebody else..."
She went on to play "Don't Look Back In Anger" by Oasis, with the steaming irony unintended, I should think! She did alter one key line to "You ain't ever gonna burn my heart out, MORRISSEY." There is some speculation about the story - that she was mistaken that it was Moz she was speaking to, because she describe him as short, which he isn't. Whatever. She really said this! LOL. Read
about it in the
Manchester Online
. See more on the setlist / fan comments at the
Dent
. I am glad I missed it because the set was filled with Tori tracks I do not like!