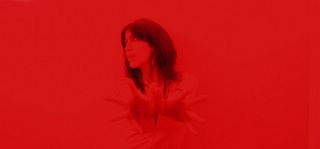 Imogen Heap is close to releasing her new solo album. I have heard 4 songs and Frou Frou fans are in for a treat - the music is just as melodic, the lyrics just as quirky and the arrangements are...ecstatic! If you haven't heard Goodnight And Go from the recent OC soundtrack (on iTunes), it's going to be one of my top songs of the year, one of Immi's best lyrics and one that I take more personally than most. My other favorite is Just For Now, a beautiful, slow midtempo with some impossibly high notes.


Imogen Heap's website
Immi's messageboard
Frou Frou's messageboard
Why'd you have to be so cute?
It's impossible to ignore you
Must you make me laugh so much?
It's bad enough we get along so well
Say goodnight and go...
One of these days
You'll miss your train, and come stay with me.
(It's always say goodnight and go)
We'll have drinks and talk about things,
And any excuse to stay awake with you.
You'd sleep here, I'd sleep there,
But then the heating may be down again.
(At my convenience)
We'd be good, we'd be great together
(Go!)
- Imogen Heap, Goodnight And Go