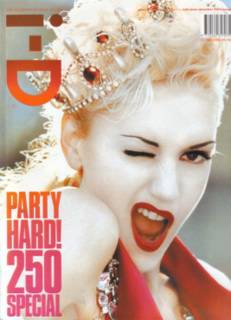 When

Bitchin Gwen Stefani's

band

No Doubt

released their last CD, Rock Steady, I realized they had hit on a winning formula: a modern pop band that's able to skitter over an abundance of 80's references and styles: new wave, reggae-lite, r'n'b, dance. Anything really, as long as the songs had strong melodies. Maybe they should have just called that record "ka-ching$"

For Gwen's first solo CD, Love Angel Music Baby, she's created a memory book of mid-80's styles in homage to her icons. Gwen has always borrowed from great LA bands like

Missing Persons

- in fact,

Dale Bozzio

seems to be her patron saint. Her first single, What You Waiting For is this year's

Hey Ya!

- an instant hit that sounds like everything else AND nothing. It's like 3 songs in one, with nods to

Toni Basil, Nina Hagen

and

Cyndi Lauper

, among others.

Like she did on Rock Steady

,

Gwen nails every style she tries and somehow it all seems cohesive and Gwendolyn-esque. Cool is a midtempo that sounds like something from Rock Steady with a bit of an 80's California AOR rock quality. It's just so smooth and pleasing. Serious is very

Lisa Lisa and Cult Jam

, while Danger Zone references both Missing Persons and

Quarterflash

. She even goes vaguely double-dutch on the inevitable (and truly grating)

Neptunes

track, Hollaback.

Her collaborations with

Andre 3000

are interesting.The hyper, girl-groupish Bubble Pop Electric, has some serious Cyndi Lauperisms. It will
adhere to your brain, but also
stick in your hair. If that's not a hit single, I don't know what is. Unfortunately the jazzy Long Way To Go does not fit on the record. Recalling

Prince

, from the Sign O' The Times

era, it might have been better left on an

Outkast

CD.

Although she is my age, 35, Gwen isn't exactly a deep woman (read literally any interview with her). She has a tendency to identify with/pander to the tweeny-bopper crowd; sometimes she just tries too hard. The chant-y Crash has all of her worst tics in one song. She might as well have had Dale Bozzio do the vocals, they are so ripped from Missing Persons. The

Fiddler On The Roof

reference on next single Rich Girl is too obvious, but the song somehow redeems itself (lovvvvve the "all the riches baby" bit). Finally, as
I said a few weeks ago
,

Harajuku Girls is truly one of the worst songs of 2004

. She paid Jam and Lewis a zilllion dollars to produce this muck?





When she acts her age, the results are terrific.

Real Thing is a wonderful rip of

New Order

that even features

Bernard Sumner.

Good company, great song. I don't know what it is about Gwen that makes me like her so much - she is not the

best

at anything, but she has enough talent, style, honesty and genuine good nature to be one of the few worthy icons in these depressing days. I predict a multi-million selling album and she deserves it.