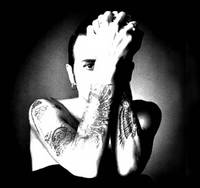 Bad news yesterday that
Marc Almond
has been seriously hurt in a motorcycle accident. He was a passenger on a bike that was hit by a car in London and he went flying. He is last listed as
stable
, but who knows what that means?
Marc's career has actually been going really well. He consistently releases CDs and, while they are not perfect, all of the recent ones have had some real gems on them. Most people know him from "Tainted Love" - but his own writing is much better.
Tenement Symphony
is, in fact a masterpiece. Finding samples online for Marc is hard, though you can hear some of his latest incarnation as a
Russian chanteuse
.
I hope he recovers! More news from
the Beeb
. Marc has a great
website
and you can even write him a get well message
here
.