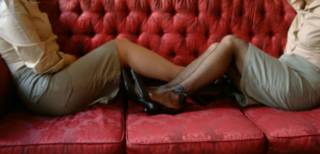 The girls above, from the UK group
Client
, don't want you to know their names. They'd rather be known as Client A and Client B. They don't like to show their faces either, just their legs. Or sometimes their chins.
But I am here to bust this mystery wide open: There is a blonde bird up there who is actually Sarah Blackwood, the voice of the late 90's group
Dubstar
. That band did lovely electropop - a total Pet Shop Boys sensibility, with similarly sharp lyrics. But doesn't it always happen? After two brilliant CDs, they dropped a viciously stinky turd and, in turn, got dropped by their label. So Sarah started this new group with another chick -I don't care about the brunette - and they are the first release from
Andy Fletcher's label
(Andy's a Depeche Moder).
Client
is a variation on the Brit blonde/brunette archetype created by the positively iconic
Joanne and Susan
of Human League. Get on this, because they are good. The first single from their new album is called "Radio" and I say it is
pulsing music for driving in your Delorean
. Hear it
here and now
.
Album
City
is out on September 27, but their debut album is still available
in the US
.