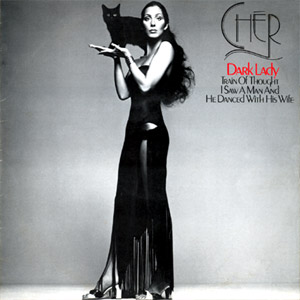 Last night I saw show #280 (of 320) of Cher's relentless Farewell Tour that has been going on for 3 years. She has already been to DC twice, but it was a pretty packed house thanks to heavy advertising in the last week.

When she opened with U2's I Still Haven't Found What I'm Looking For, I was worried she'd lip sync the whole show (as she did that number), but she appeared to be singing live most of the time, though I think her voice was a bit processed because it seemed higher than normal, even when she spoke. She actually did a long spiky monologue about lip-syncing in which the psuedo-insta-divas (like Ashlee Simpson and JLo) were skewered.

You can guess the set list – all the hits. The only song that surprised me was a version of Love Hurts. It's hilarious that she really does all the mannerisms you know, like running her tongue across her upper teeth. She also has a very particular way of moving onstage that seemed so familiar. No wonder drag queens love to imitate her: she's a series of mannerisms and tics!

Speaking of drag, Cher looked like a drag queen doing Cher during the If I Could Turn Back Time part - she is just too old and boxy for that get-up. The costumes and props were hilarious (like a huge, rickety fake elephant they wheeled around the stage – it was very… paper mache!). Sometimes her outfits were so elaborate you felt you couldn't see her: I liked her best when she was in jeans and didn't seem to be behind a wall of clothes or wigs.

She looked pretty good on the monitors, but I'd like to see her up close! When we were leaving we saw two really scary "pulled" ladies –women with really hideous plastic surgery- they looked just alike with their stick thin legs in jeans and spiky heels, fake cheek bones and jutting Donald Duck lips. You know the types- it's just sort of assaulting to see them in person. Who takes these chicks seriously? Their plastic surgery looked like scary masks.

The best - and mistiest - part of the show was the 70's section with clips from the TV shows. My friends and I had the same nostalgic "wasn't she beautiful!" reaction to old shots of Cher doing Gypsies, Tramps And Thieves. It was amazing to see all these clips and realize how many years she has been a part of our consciousness. Cher is literally something Americans share, like we share songs (note that I am a fan - I don't even understand how people are not interested in her or care about her in some way!). She's a distinctly American matriarch or, more appropriately, a crazy beloved aunt. She's never seemed threatening, yet she's always been pretty blunt and unrehearsed. Despite all the slutty costumes and canon-straddling, she's never really pushed sex. This may be because she has a sort of Big Bird quality or it may just be that she seems so familiar. It's the Dolly Parton combination of totally fake and totally real.

Cher changes costumes for virtually every song, which resulted in quite a bit of time without her on the stage and long opening preludes to the songs. The dancers were very Cirque du Soleil , sliding up and down and spinning on long pieces of fabric. I kept thinking they'd fall (I saw no harnesses), but they didn't.

You would think that a Cher show would be a sea of gay men, but instead it was a sea of ... my parents! I mean thousands of 40-60 year olds. A lot of biker lookin' men and women – like the crowd I've seen at a Stevie Nicks show, in badly feathered hair and mullets!

My only disappointment was that there wasn't more "farewell' drama at the end. She should have milked that. Compared to her long monologue at the beginning of the show, the closing was a bit of a letdown –she never spoke and just sort of disappeared early before Believe even ended. No group bow or anything.

No chance to say goodbye, but I bet Cher doesn't do goodbye. Come back to the five and dime, Cher Bono, Cher Bono!