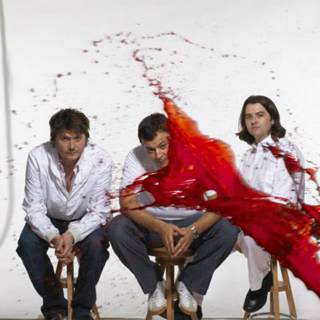 Reasons to lend
Manic Street Preachers
your ear:
1) They wrote one of the Top Ten Finest Songs of the 1990's, called
"A Design For Life"
- it opened with the line "Libraries gave us power." This song is the definition of sweeping.
2) We like underdogs. Manic Street Preachers should have died when their frontman disapperared, but they didn't and the songs just got better.
3) I personally don't love their
albums
, just key singles that are frequently doozies, not to mention some of the best titled songs in pop music:
Motorcycle Emptiness
If You Tolerate This Your Children Will Be Next
La Tristesse Durera (Scream to a Sigh)
You Stole The Sun From My Heart
The Masses Against The Classes
Motown Junk
samples of each here
4) They have a new single called
"The Love Of Richard Nixon"
(
see the video
) and a new album called
Lifeblood.
Interestingly this one is supposed to be "elegaic" and calm.
5) They are Welsh and from Cardiff, a place of personal import to me! Read a great interview with MSP in The Guardian
here
.